2021 Startup CEO Salary Report
One of the most common questions we get from founders is what their salary should be after they raise funding. To help answer that question, we analyzed CEO pay at over 250 seed and venture-funded startups. We've been tracking this data for several years, and 2020 was the only year that we've seen a dip in the standard CEO pay. And in 2021, the average salary popped back - but that's not the full story, as you'll see as we dig into the numbers.
Average Startup CEO Salary in 2021
During COVID, the average startup CEO salary dipped 2% to $139,000, but bounced back to $146,000 at the beginning of 2021. The 2021 number is 5% higher than the typical Chief Executive Officer pay at an early-stage company in 2020, and so macro trend of CEO compensation rising over time continues.
Of course, read our answers to the two logical follow up questions:
When can a startup CEO take a raise - we'll tell you what the data says!
and
Who is the highest paid person at a startup - see who really gets (cash) compensation at an early-stage company!
Average Startup CEO Salary 2018 to 2021
| | 2018 | 2019 | 2020 | 2021 |
| --- | --- | --- | --- | --- |
| Average Startup CEO Salary | $130,000 | $142,000 | $139,000 | $146,000 |
| Median Startup CEO Salary | $125,000 | $131,000 | $130,000 | $135,000 |
The analysis comes from an anonymized dataset comprising more than 250 venture-funded startups and representing more than $2 BN in funding. Startups in the study represent several industries, including Biotech, eCommerce, EdTech, FinTech, HealthTech, Hardware, SaaS and more.
How Did the Covid Pandemic Affect CEO Salary?
CEO Salary Change during COVID
As the urgency of the COVID situation decreased, and many early-stage companies saw their financial situation stabilize, a number of the startups that reduced their executive pay reversed the situation.
41% of the CEOs who had their salaries reduced later increased them by the end of the year, while 47% kept their salaries flat - and 13% decreased their compensation further.
The following chart shows what happened to the CEOs who reduced their pay during COVID by the end of the year.
Percent of CEOs who deceased salary during COVID who changed salary by year end
In 2019, before COVID, startup CEO salaries averaged $142,000. In 2020, approximately 36% of companies reduced their chief executive compensation during COVID. Many slashed their compensation to zero. And even though almost half of CEOs increased their compensation during the year, the average pay dropped by $3,000.
For 2021, the average startup CEO salary is now up to $146,000, an increase of $4,000 from 2019 (almost a 3% increase) or 5% up from the COVID crisis of 2020.
"Many CEOs scrambled during COVID to try to stretch their company's runway by slashing costs, including their own pay," said Scott Orn, COO of FP&A at Kruze Consulting. "However, as the year ended and many technology companies recovered - and as venture funding continued at unprecedented levels - boards and executives felt comfortable increasing executive compensation to pre-crisis levels."
However, the recovery was not even.
CEO Salary Females VS. Men
| | 2019 | 2020 | 2021 |
| --- | --- | --- | --- |
| Male Salaries | $143,000 | $146,000 | $148,000 |
| Female Salaries | $138,000 | $101,000 | $132,000 |
| Average | $142,000 | $139,000 | $146,000 |
Compared to Their Male Counterparts, Female CEOs Took a Pay Cut During the Pandemic
Interestingly, Female CEOs were more likely to take a pay cut during the pandemic. When comparing male and female CEOs, female leaders took a 30% reduction in salary at the peak of the pandemic ($101,000 compared to $138,000 in 2019) while their male counterparts saw an increase ($146,000 compared to $143,000 in 2019).
Differences in Recovery
Leading into 2021, the female leaders moved their salaries up over $30,000 - however, the gap between male and female CEO's salaries did not close vs 2019. Looking by year, for every dollar in salary men earned, female CEOs earned:
2019: $0.96
2020: $0.69
2021: $0.89
"The female executives we work with were aggressive at taking steps to preserve their companies' cash during COVID, including drastically cutting their own compensation"
said Vanessa Kruze, CEO of Kruze Consulting.
"And, while we did see many of startups with male leaders also reduce their pay, we aren't quite sure why females were more likely to take a pay cut during the pandemic."
CEO Salary By Venture-Capital Funding Raised
How does CEO pay vary by the amount of venture capital raised?
| | $0-$2M | $2M-$5M | $5M-$10M | $10M+ |
| --- | --- | --- | --- | --- |
| Average | $114,000 | $144,000 | $159,000 | $176,000 |
| Minimum | $6,000 | $14,000 | $1,000 | $1,000 |
| Maximum | $275,000 | $450,000 | $400,000 | $440,000 |
The trend of increasing compensation being tied to increasing levels of capital raised persisted - as expected. Seed stage salaries - for companies that have raised less than $2 million in total funding - seem to be still recovering from the COVID crisis, and the overall pay there is down from $120,000 in 2019. However, at all other levels pay is more or less flat to up quite a bit.
We would advise founders to adjust their compensation as their company raises increasing amounts of funding.
2020 Startup CEO Salary Report
We have presented you with CEO salary data the last two years. In 2019, we analyzed 125 startups. This year, we took it up a notch and analyzed data from more than 250 venture-funded startups.
In 2020, we saw salaries decline at the height of the covid pandemic. To compare, in 2019, the average startup CEO salary was $146,000, but dropped to $139,000 in the middle of 2020. The same trend was true for the median startup CEO salary. In 2019, it was $131,000 and in 2020, salaries ranged around $130,000.
SaaS was the top performing industry by CEO salary in 2020. EdTech and Hardware startups saw the biggest declines in CEO salary and eCommerce startup CEO salaries went up the most in 2020.
Below is our 2019 study, which we have left online for reference. Please quote the information above when referring to 2020 - 2021 data.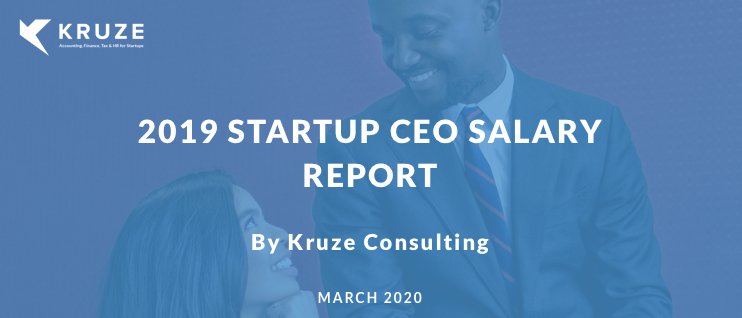 2019 Startup CEO Salary Report
Last year, we analyzed data from 125 startups to find that the average 2018 salary for a startup CEO was $130,000. This year, we expanded the data to over 200 of our seed and venture-backed clients and found that in 2019, CEO salaries rose to an average of $142,000 annually, nearly a 10% increase.
The startups we used to determine this figure have raised collectively more than $2B in funding. They span the "typical" range of U.S. startup industries including biotech, eCommerce, fintech, hardware, SaaS and more. As we found last year, the highest-paid CEOs fell predominantly into the healthcare and biotech categories.
As financial and accounting consultants to hundreds of funded startups, we are regularly asked by our clients to help them benchmark their companies' metrics. And, not surprisingly, compensation is one of the most frequent questions. We hope this data will help other early-stage businesses prepare their budgets!
What's Driving the Salary Growth?
According to our founder and CEO of Kruze Consulting, Vanessa Kruze, "this year's data indicates that startup CEOs are making around 10% more than last year, which is to be expected since funding rounds increased in size year over year."
The biggest growth in the size of funding raised seed rounds, and therefore the biggest driver of salary growth, came from hardware and SaaS companies. In 2018, CEOs of hardware startups had an average salary of $118,000, which rose 14% to $135,000 in 2019. Meanwhile, those of SaaS companies made on average $113,000 in 2018, which rose 7% to $121,000 in 2019.
Biotech CEO salaries remained relatively unchanged year over year, coming in at $147,000 in 2019. Same with fintech at $129,000. The one decline we saw was for eCommerce companies, who saw their salaries dip nearly 4% in 2019.
Startup CEO Salary by Industry
Seed Stage CEO Salary by Industry (in thousands)
| Industry | Salary 2018, thousands $ | Salary 2019, thousands $ |
| --- | --- | --- |
| Biotech/Pharm | $147 | $147 |
| eCommerce | $83 | $80 |
| FinTech | $124 | $129 |
| Hardware | $118 | $135 |
| Saas | $113 | $121 |

One trend remained the same as last year: the more you raise, the more you get paid. For companies with total funding of $2 million or less, average CEO salaries increased just $5,000 in 2019. Companies that raised between $2 million and $5 million saw almost an 8% increase in Chief Executive Officer salaries.
Total Funding Raised
| | $0-$2M | $2M-$5M | $5M-$10M | $10M+ |
| --- | --- | --- | --- | --- |
| Average | $120,000 | $124,000 | $162,000 | $173,000 |
| Minimum | $35,000 | $60,000 | $20,000 | $55,000 |
| Maximum | $275,000 | $315,000 | $410,000 | $350,000 |
The largest growth appeared among companies who raised between $5-10 million – among this group, average CEO salaries jumped 12% from $145,000 in 2018 to $162,000 in 2019. Startups with $10 million or more in funding saw their average Chief Executive's pay rise 8% from $160,000 in 2018 to $173,000 in 2019.
Male vs. Female Startup CEOs: Are Men Paid More?
There's been plenty written about the pay disparity between women and men in the U.S. And when it comes to the startup world, that pay gap has remained stubbornly high.
Still, when it comes to startup CEO pay, our data reveals some good news. When we compared the salaries of male Chief Executives versus females, we found that the numbers were roughly the same – $138,000 per year for women versus $143,000 for men.
"Wait," you may be saying, "that's still a $5,000 difference." Yes, but there's a solid explanation. Based on our analysis of the data, this small difference can be explained by the fact that the female CEOs in our dataset are predominantly running earlier stage companies. When we look exclusively at Seed and Series A Chief Exec salaries, the difference in pay between men and women practically vanishes.
Granted, for the later stage companies it's a different story – while these CEOs tend to make more, there are fewer female CEOs in this group. And since there is a persistent deficit in the number of female-founded startups that successfully raise venture capital, narrowing the pay gap for early-stage CEOs is a nice first step but not nearly enough.
Below is our 2018 study, which we have left online for reference. Please quote the information above when referring to 2019 data.
One of the most common questions CEOs ask us at Kruze Consulting is: "How much should my salary be?" Since the Kruze team helps run startup's books and payroll, it's natural that we'd get this question. We looked at our payroll data for over 125 seed and venture-backed startups to come up with the answer.
What do startup CEOs get paid?
$130,000 per year. Our data shows that the average annual salary for a CEO of a seed or venture backed company is $130,000. Note that our dataset is only for funded companies, with the average company in this analysis having raised between $7 and $8 million in venture and seed financing.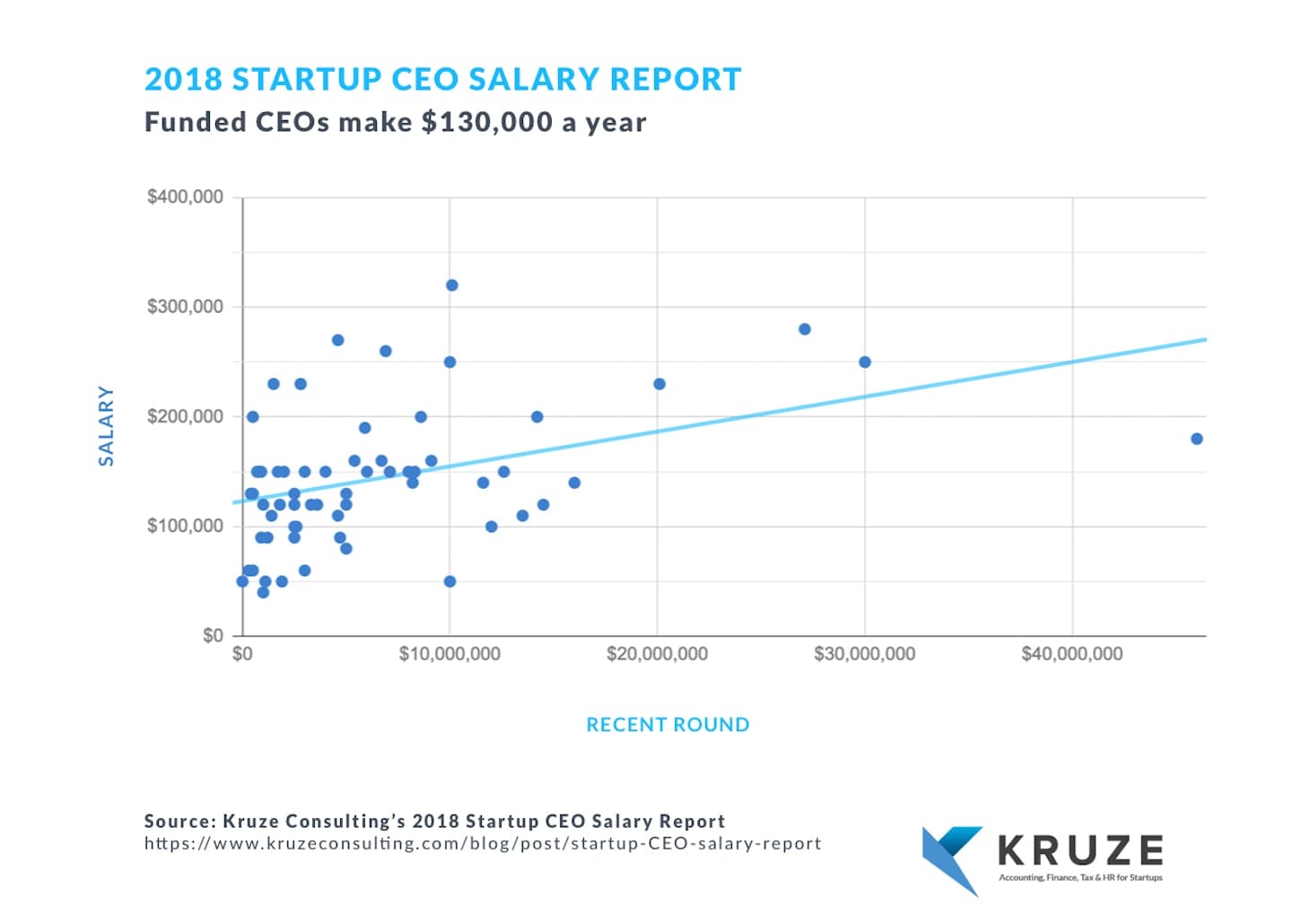 How does a CEO pick his/her salary?
We've found that there are a variety of factors that can influence the salary of a startup CEO. These factors include: the total funding raised, cash in the bank, industry, and the experience of the founder. Our analysis backs this up, but it's important to mention that there is no single factor that influences this decision.
How does a startups funding impact CEO salary?
Roughly, for every additional $1,000,000 raised, a startup CEO will take home between $4,000 and $5,000 more in annual salary. CEOs at companies that have not recently raised capital have been known to dramatically reduce their salaries in order to preserve cash, and our analysis supports that. Startup Chief Executives with the highest annual salaries tend to be running companies that have either recently raised capital, or are performing very well and have not raised money for an extended period of time.
2018 Ceo Pay By Total Funding Raised
Raise More, Pay Make
Total Funding Raised

Salary Range

$0 - $2MM
$2 - $5MM
$5 - $10MM
$10 - $50MM
Average Salary
$115000
$115000
$145000
$160000
Minimum Salary
$10000
$0
$20000
$0
Maximum Salary
$300000
$265000
$275000
$325000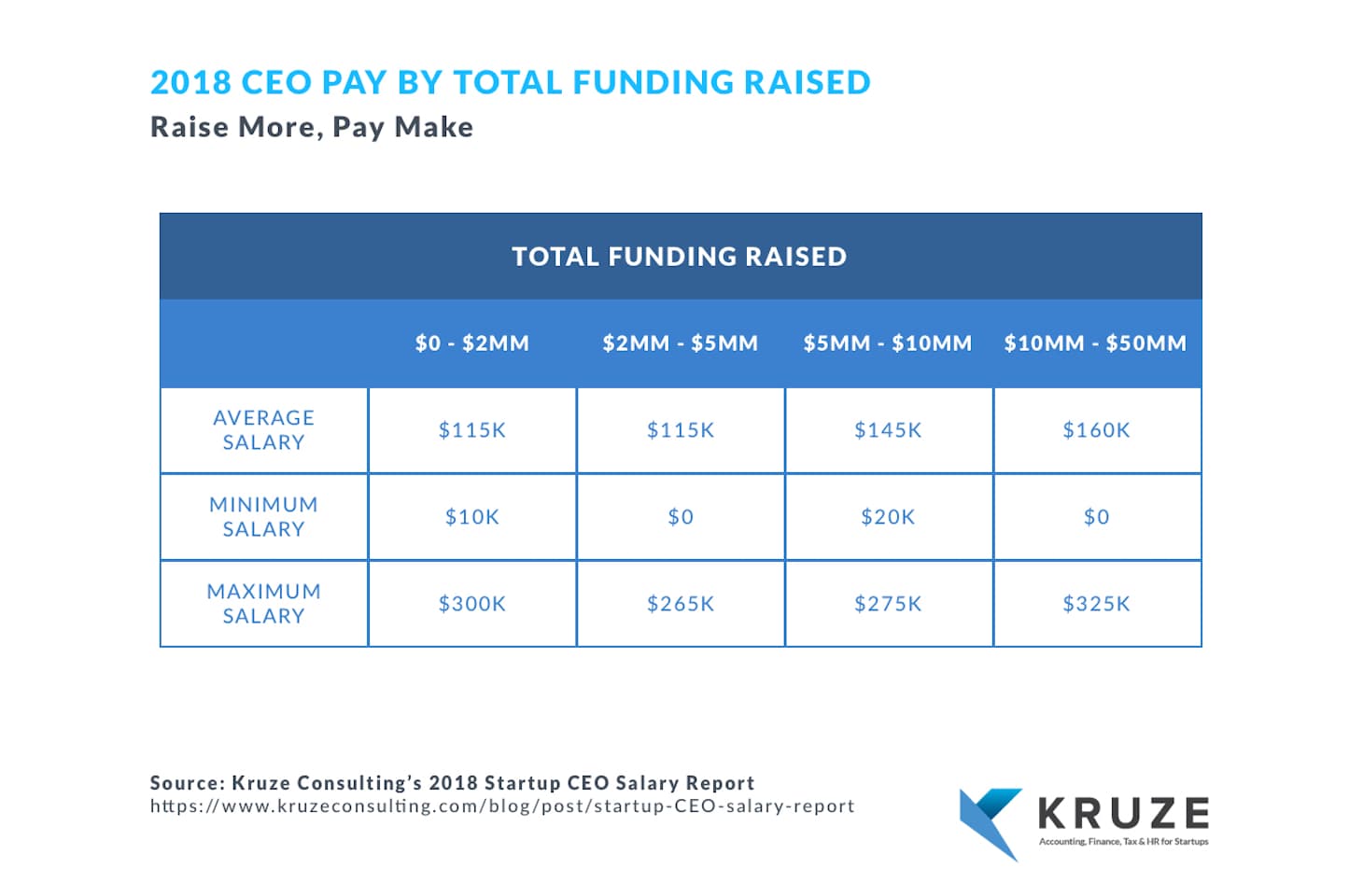 How does a startups industry impact CEO salary?
We've found that CEOs in some industries have higher average salaries than others. CEO salaries in the Biotech and Healthcare industries tend to average more than those in other industries. Founders in those industries tend to come with academic credentials, and previous experience, that founders in other industries don't always have (M.D., PHD), and thus warrant a higher annual salary.
Seed Stage Ceo Salaries by Industry (in thousands)
| Industry | Salary, thousands $ |
| --- | --- |
| Biotech | $158 |
| eCommerce | $83 |
| FinTech | $124 |
| Hardware | $118 |
| Healthcare | $136 |
| DB/Info | $138 |
| Saas | $113 |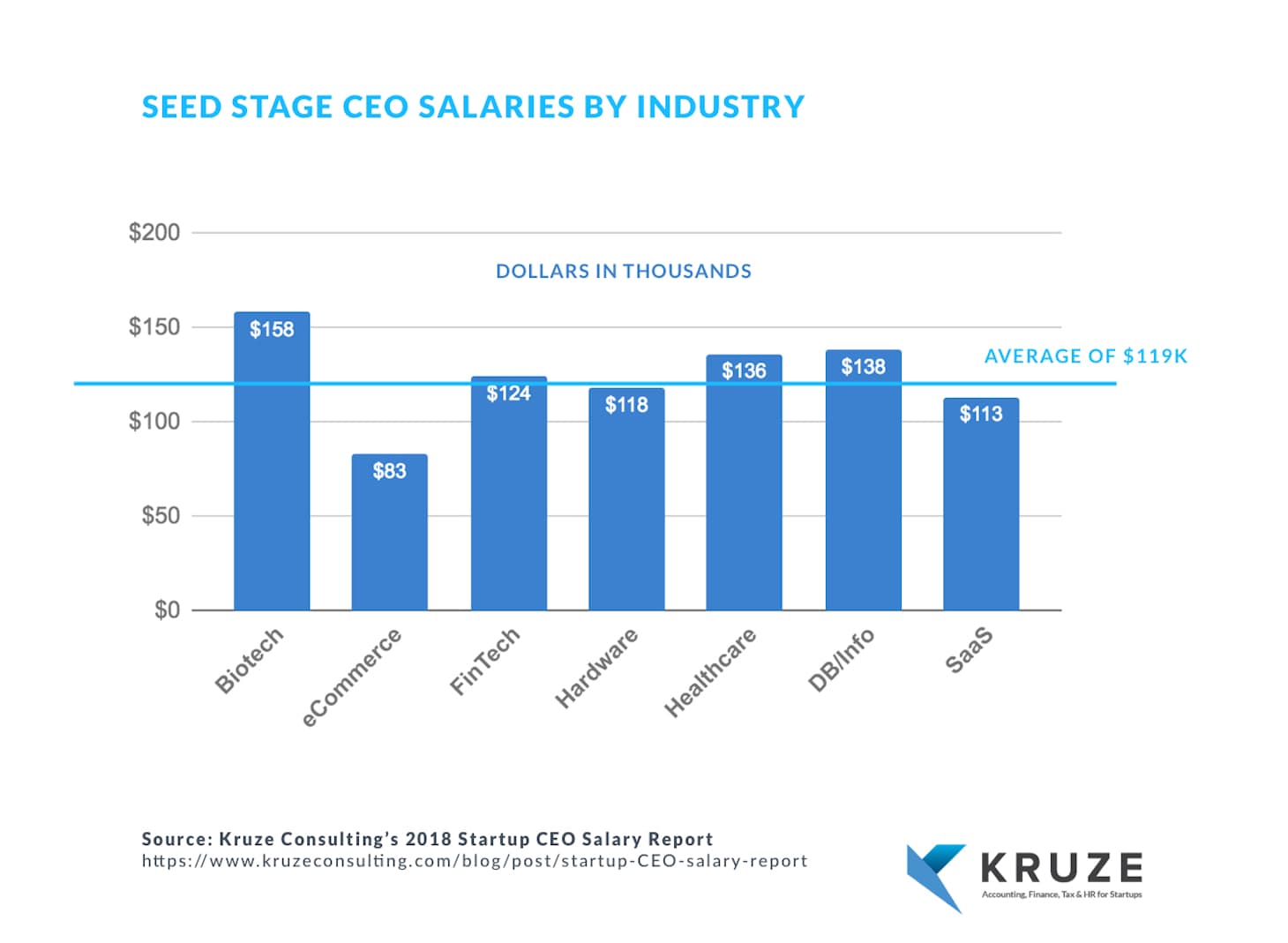 CEOs of funded startups make many important decisions - including compensation decisions. We hope this report simplifies your startup CEO pay decision! Expect us to publish future studies on other startup executive pay.
Interested in other data on startup spending? Visit our Uber vs. Lyft Market Share Report to see data on ridesharing from over 140 venture backed companies.
About Kruze Consulting
Kruze Consulting was founded in 2012 by Vanessa Kruze, a big four alum, startup controller and CPA. Kruze provides Startup CFO Consulting to over 500+ startups in Silicon Valley, Los Angeles, New York, and other major startup hubs. Kruze's clients have raised over $500 million in venture capital in the past 12 months, and are market leading Saas, software, eCommerce, eHealth and FinTech startups. The firm handles all things Accounting, Tax, Finance, & HR: interim CFO Consulting, financial modeling, annual taxes, venture debt consulting, 409A reporting, bookkeeping, AR/AP, and Seed/Series A/B Fundraising Preparation. Visit kruzeconsulting.comto learn more.
The 2018 Startup CEO Salary Report was created by Healy Jones, Senior Consultant Alex Janeck and Staff Accountant Litzy Yang. Design by Lucila Romero.