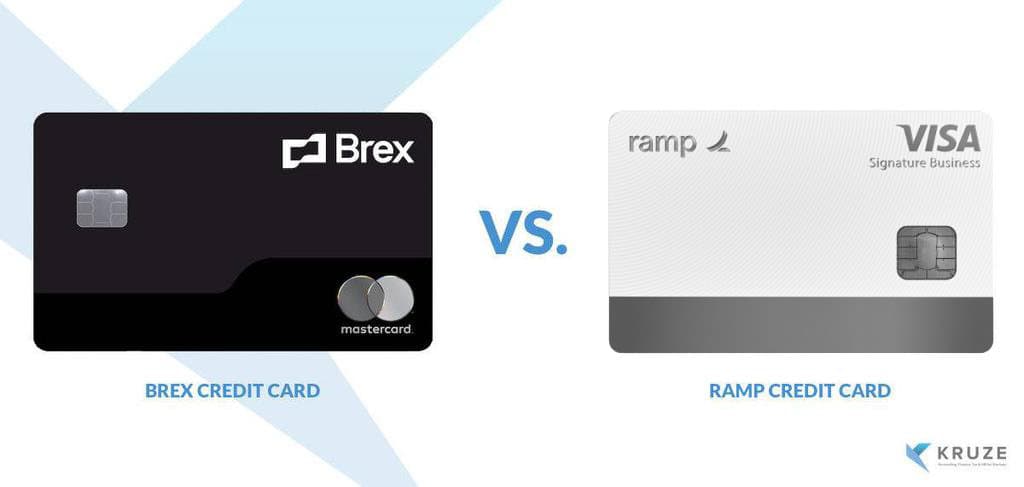 Our startup clients have quickly adopted Brex's corporate card. Ramp's expense management card is really picking up market share, especially amongst later-stage companies. Let's compare the two options to see which card is best for a seed funded or venture capital backed business.
As a leading accounting and finance consulting firm that has worked with startups that have collectively raised over $10 billion in funding, we have some strong opinions on which card is right for you and why. Our team spends all day helping founders manage their books and finances - and we see which tools and cards they are using. Our opinions are based on the experiences of hundreds of companies that spend many millions per month.
*Note that we are members of both Ramp and Brex's partner programs, which means if you sign up through our links you typically get higher sign up bonuses, and we receive modest commission. *
First, what to look for in a credit card for your startup
Traditional business owners are usually looking for a low-fee product that gives them travel points, and they expect their line of credit to be based on their personal credit score.
Funded startups need something different:
Rewards that appeal to a tech, biotech and ecommerce companies
A credit or spending limit that is based on the company's balance sheet
No personal guarantee on the Credit Card
Cheap and fast bookkeeping with accounting software integrations
Team spending management tools
What is a Brex credit card?
Brex is a great card for a funded company - but is totally the wrong choice for a bootstrapped or traditional small business. They has an amazing rewards program for funded companies, with perks and rewards that a VC-backed corporation can actually use. Additionally, Brex offers a generous spending limit based on the company's funding and performance. They also have increasingly good cash/bank-like features, including some level of FDIC insurance on cash deposits. Sign up here.
What is a Ramp credit card?
An Expensify alternative, Ramp combines a corporate card with expense management tools like expense report creation and analysis, personal reimbursement and expense policy creation. Ramp is strongest for Series A to Series C companies who are dealing with the rapid increase in the number of people paying for software, travel, etc.
Comparing Brex and Ramp's cards
This chart details the key differences between the Ramp card and the Brex card.
| | Brex | Ramp |
| --- | --- | --- |
| Built for Funded Startups | Yes | Yes |
| Good for SMBs | No | Yes |
| Spending Limit | Generous | Generous |
| Rewards | Points for spending, including higher points for key startup expense categories | 1.5% cash back on all purchases. No exceptions or complicated "point" programs |
| Personal Guarantee | Not Required | Not Required |
| QuickBooks Online Sync | Yes | Yes |
| Expensify Sync | Yes, but Brex can replace Expensify | No, but Ramp replaces Expensify |
| ACH Payments | Free | Free |
| Netsuite Integration | Yes | Yes |
| Bill Pay Feature | Yes | Yes |
| Easy Bookkeeping | Yes | Yes |
| Instant Sign Up | Yes | Yes |
| Ability to Carry Balance | No | No |
| Robust Spending Controls | Yes | Yes |
| Website | Visit Brex | Visit Ramp |
One of the most important things for founders to realize is that both of these options, Ramp and Brex, give good spending limits based on your company's bank account balance (among other factors). Neither requires a PERSONAL GUARANTEE, which VC-backed founders need to consider at the top of their list of requirements.
A Quick Note on Brex Leaving the SMB Market
In June of 2022, Brex rather awkwardly announced that they were exiting the small business market. This caused a lot of confusion, as they sent cancellation emails to a large number of their clients - even some Kruze clients got cancellation notices from Brex! However, Brex clarified that they were still servicing and adding startups that had raised professional funding. So that's Kruze clients! We were able to get them to reinstate our clients. However, small business owners should probably not try to work with Brex, that's not the client base they are trying to serve. Note that Ramp is still trying to service SMBs, and requires only $75k in the bank to apply for an account, so small businesses may want to consider them. Watch our video on their decision below:
Reviews of Brex and Ramp's cards
Brex is a great option for early-stage companies because they are more established and have a more mature product on the market. Ramp, however, may be a better option for companies as they grow, have more employees and expenses as it offers great spend control and easy accounting. Ramp also offers a generous, no exception or complicated point 1.5% cashback and savings program.
We've collected reviews of Ramp and Brex from our team (that has run millions and millions in expenses through both systems). You can read these review on our best credit cards for startups page - read Brex reviews here and Ramp reviews here. Both are highly rated as of the time of us updating this review.
Brex vs Ramp vs Stripe
Another player that our startup founders occasionally ask about is Stripe's card offering. We really haven't seen as many companies use the Stripe offering vs Brex and Ramp. Overall, our team thinks that the Stripe card is fine for a company already using other Stripe products, but it doesn't have the same level of integration with QuickBooks Online (so accounting is a bit harder) and Brex and Ramp are really, really pushing the expense management features in a way that Stripe just hasn't kept up with.
Do we recommend Brex or Ramp?
Brex is better for early stage companies because they are more established and have a more mature product in the market. Early-stage companies (<15 people) typically don't have the need or ability to use and/or manage many of the internal controls and process features that Ramp contains, until they have a finance-centric individual in-house. The full suite of benefits that Brex has means that it can more or less be a one-stop-shop for an early-stage company's complete banking needs at no cost. That is a valuable for a small company early on. (Although we still recommend that a company consider a startup-focused bank like SVB or FRB).

Ramp, on the other hand, is a better credit card option for larger, more-established companies that have greater streamlined approval, expense management, and control needs. Their bill pay is excellent, and doesn't require you to open a 'savings/cash' account with them - you can just connect it to an existing bank account. This makes it even easier to switch to them, and is another reason that they are a great option to switch to as a later stage company.
There is another option for mid to later stage companies looking for tight expense management, accounting integrations and other finance controls/features - companies like Airbase or Procurify. These vendors combine cards with heavy-duty finance controls. They don't make sense until you've got a full time VP of Finance or CFO in seat - provisioning and managing these tools takes time. But if you are looking for a heavy-duty, more "late-stage" (or dare I say enterprise) alternative to Ramp, they may be worth looking at.
Brex vs Ramp in Review
Brex Card - the better option for funded, early-stage companies. With a generous spending limit based on the company's funding and performance, and no personal guarantee, it's truly built for the Silicon Valley-style startup. Kruze Consulting clients can now get a 125,000 point sign-up bonus after depositing $500,000 into a Brex business account and an additional 25,000 point sign-up bonus after spending $10,000 on Brex card(s). Sign up now through Kruze.
Ramp Credit Card - likely a good option for established companies. Ramp is more focused on later-stage companies with features like expense approval, reimbursement control, and other process controls that are helpful for growth stage companies that have finance teams in place and more internal control. Also, unlike othercards that entice you to spend with complicated reward programs,Ramp is the onlycard built around keeping money in your bank. It is a corporate card that strengthens your finances. Ramp offers companies that sign up through Kruze's links $500 $750 cash back - a generous offer that you can't get other places. Visit Ramp now to sign up.
Biggest Perk - AWS CRedits - Brex vs Ramp
A perk that our clients regularly ask about is Amazon Web Services credits. Which startup card company - Brex or Ramp - offeres the best AWS credits? Brex has a slight lead here; however, there are nuances in how Amazon runs their web services program, with our latest understanding after talking with them that there are two options to get credits, one of which is $100k - but it has to be used in 2 years. If your startup can't use that much in AWS in 2 years, then sometimes smaller amounts that last indefinitely are better. But, getting down to brass-tacks, here are the AWS offers that the two card companies have (note that they may change these offers without telling us, so check their sites to make sure it's the most current offer):
Brex AWS Credit offer: $5k AWS Active offer + up to $100k in credits
Ramp AWS Credit offer: Up to $25k in AWS credits
Which has higher credit limits - Brex or Ramp?
In our experience, Brex offers a higher credit limit to many funded startups than Ramp. With Ramp, we have seen clients successfully (and easily) request a higher limit; the limit for both companies hasn't really been an issue in our mind. And, more importantly, both vendors offer generally much, much higher spending limits than traditional card companies like Amex or Citi. Ramp recently launched a new form of credit to companies generating revenue, bill pay financing.
Deep dive into Ramp's bill pay financing - Interesting for SMBs, not so Much startups
Ramp's bill pay now has a financing feature called "Ramp Flex." This integrated into their normal bill pay workflow. With this "Flex" feature, you can have your vendors paid immediately, but actually get the money taken out of your bank account 30, 60 or 90 days later.
The reason this may not be great for VC-backed startups is that this will cost 1% a month, which will compound to a rather large interest rate vs. what a startup can get as yield in a money market account. And since startups often have a lot of cash (VC-backed startups that is!), why pay interest when you have the cash available?
However, for traditional, bootstrapped SMBs this could be an interesting option. This bill pay feature shows how Ramp is trying to continue to service the SMB market, where as Brex has chosen to only focus on VC-backed companies.
A side note on travel
One item that we've become increasingly pleased with from both Brex and Ramp are their development of travel features for startups with teams. Both providers are rapidly developing features to make it easier for companies at scale to manage their spend. For companies with teams who travel, Ramp in particular has excellent features that help keep travel spend in policy, visualize the company's travel budget and more. Both have solid mobile apps. For example, the Brex mobile app is pretty amazing for travel. After you use it, say at a restaurant, you'll get a notification on your phone. Simply click into the Brex app, take a snapshot, add some data like who you were with (depending on your startup's expense policy) and viola, you are almost done with your reimbursements! It's pretty great, and does push us slightly to preferring Brex if you have a high-travel company.
Want a detailed review of the best credit cards for startups? Click here to read our breakdown of the top players we see our clients using. We list out the pros and cons of each of the cards we see with major market share.
Does Brex charge a fee?
No, Brex doesn't charge fees to have the basic corporate card. They make their money from the interchange, and do not charge monthly fees, transaction fees, etc.
Does Ramp Charge a Fee?
No, Ramp also doesn't charge fees for the basic corporate card. That means there are no transaction fees, monthly fees, etc. It's a low-cost option for startups.
In summary - don't go with a standard card if you are a VC backed company! Get a solution like Brex or Ramp! They are built for you, especially because they don't have a personal guarantee, have great tools for founders, good rewards, and more.