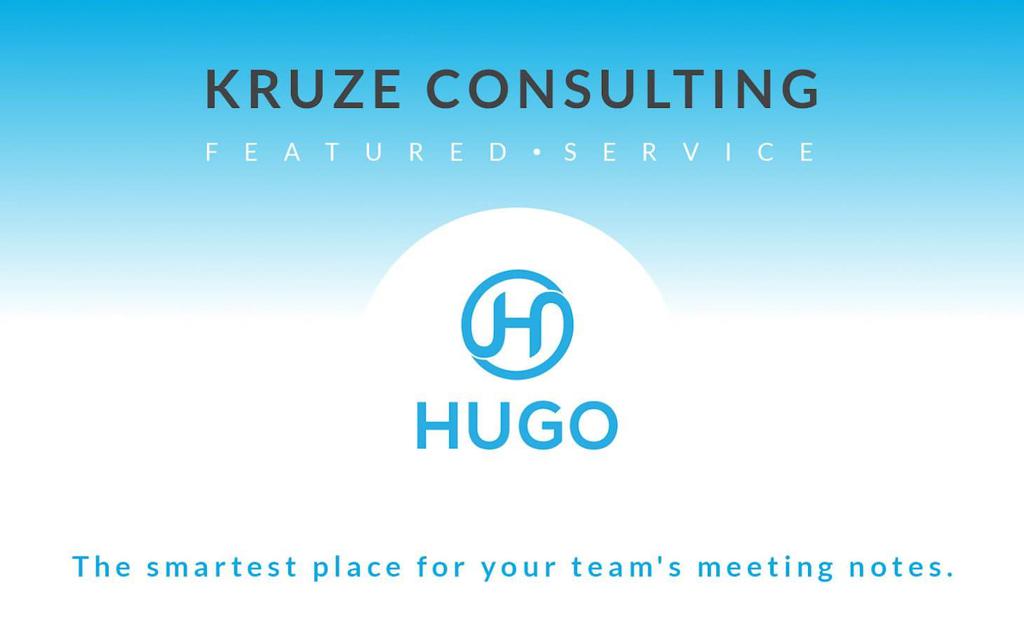 Hugo is the smartest place for your team's meeting notes, and we can guarantee that it is because we have been happily using it at Kruze Consulting with amazing results.
Hugo, first of all, is a team solution and their tagline is "Bring Knowledge from the Outside in." Their product makes it really easy for teams to document, organize, and share meeting insights so that everyone is on the same page and can reduce the response time between insights and execution.
By providing transparency over meeting insights that have been generated by the team and then creating a platform from which sharing and discourse can take place on top of that information in a way that's very fluid and reduces overhead for the company, there shouldn't be additional work in bringing everyone up to speed, whether that's with long lead time, like a two weekly or monthly all hands, which has a lot of prep time and is delaying the team's ability to respond, so that's the first thing.
The second thing is allowing for osmosis to take place when information is exposed to those who typically don't have access to it.
Listen to our Founders & Friends podcast with Josh Lowy, Co-Founder and CEO of Hugo, discussing Hugo's software which makes documenting meeting insights easy and sharing with your team even easier. Trust us on that!
Make sure you visit www.hugo.ai to learn more about this amazing application!
Kruze Consulting handles all things Accounting, Tax, Finance, & HR: interim CFO Consulting, financial modeling, annual taxes, R&D tax credit studies, venture debt consulting, 409A reporting, bookkeeping, AR/AP, and Seed/Series A/B Fundraising Preparation - only for funded startups. Find out why Kruze Consulting has so many successful startups as clients. Contact Kruze today!