In March 2023, the Federal Deposit Insurance Corporation (FDIC) placed Silicon Valley Bank (SVB) into receivership. The information about SVB in this blog does not reflect these events.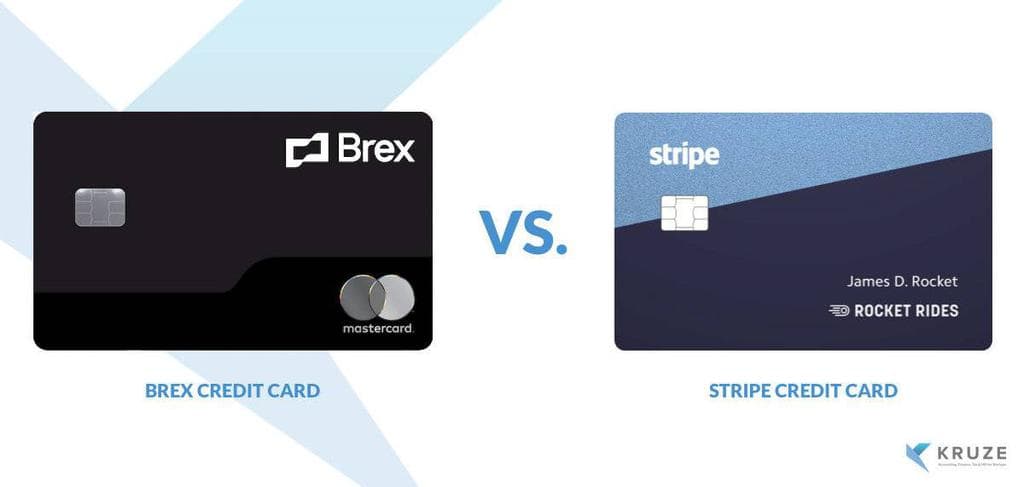 One of the fastest-growing tools that we've seen our startup clients adopt is Brex's corporate card. Stripe announced a new card in late 2019, and we thought that this might also be a huge thing for early-stage companies. But, it didn't really pan out that way. Let's compare the two options to see which card is best for a funded startup.
As an accounting firm to startups that have raised billions in venture capital funding, we know what early-stage companies should look for in a credit card - and it's not the same as what a "traditional" SMB needs.
First, what to look for in a credit card for your startup
Traditional business owners are usually looking for a low-fee option that gives them a lot of travel reward points - and getting that cc is based on the business owner's credit score and ability to take on debt.
Funded startups need something different:
Rewards the startup can use
A credit or spending limit that is based on the company's funding, not the founder's credit score
No founder's guarantee on the Credit Card
Bookkeeping integration and ease
Team spending management tools
Expense management tools - a new addition to the list, now that Brex and Ramp have created awesome expense management features
Things like APR and personal travel points don't make the list - those are awesome features for people who start consulting companies or other small businesses. If you are following the Silicon Valley route of seed funding to venture capital funding for your company, then you need a card like Brex (or perhaps the new product from Stripe), or a card from a startup-focused competitor, which we'll get into in a moment.
What is a Brex credit card?
Brex offers corporate cards (not technically credit cards) to funded startups. At the moment, we think it's the best card for funded companies. Companies that use Brex get rewards that they can use, and extra points on common startup spend categories like ridesharing. If you use Brex to purchase certain products, like Amazon Web Services, you can get discounts. Importantly, unlike a traditional credit card, Brex doesn't require a personal guarantee from the founder. This is very important, since many early-stage companies go under, and you, as the founder, don't want to be personally stuck with a hundred thousand credit card bill! Brex itself is a venture-funded company - a unicorn to be exact. It's raised over $1.5 billion in venture capital. You can get one here.
What is a Stripe credit card?
Stripe now offers corporate cards (also not technically a credit card) to early-stage companies who are already Stripe clients. The company gets 1% cash back, plus 2% cash back on the top two categories for each month, calculated automatically - that's a nice feature! The fact that it is automatic will save time. If you use their offering with certain vendors, like Amazon Web Services or Hubspot, you get a discount. Another nice feature is that there is no personal guarantee required by the founder. They are also a unicorn and have raised over to $2 billion in venture capital. You can request an invite here.
Comparing Stripe and Brex's cards
This chart details the key differences between the Stripe card and the Brex card.
| | Brex | Stripe |
| --- | --- | --- |
| Type of Card | Corporate Charge Card | Corporate Charge Card |
| Built for Funded Startups | Yes | Yes |
| Spending Limit | Generous | TBD |
| Rewards | Points for spending, including higher points for key startup expense categories | 2% for the top 2 expense categories each month 1% on all other spending |
| Personal Guarantee | Not Required | Not Required |
| Stripe Account Required | No | Yes |
| QuickBooks Online Sync | Yes | Yes |
| Expensify Sync | Yes | Yes |
| Netsuite Integration | Yes | No |
| Easy Bookkeeping | Yes | Likely but Unknown |
| Instant Sign Up | Yes | Yes |
| Ability to Carry Balance | No | No |
| Robust Spending Controls | Yes | Yes |
Reviews of Brex and Stripe's cards
We only have a few clients using Stripe's card, vs. hundreds on Brex. CEOs reviews of the Stripe card are fine, but it's only really turning out to be for a subset of startups that are deeply using the Stripe ecosystem and who only want a basic card. Brex has been around for a while, and we have quite a few of our clients using it - to strong, positive reviews. And we can attest that it makes running your bookkeeping and account much easier, as well as driving a positive spend culture because the spending controls are excellent. The features that Brex has come out with, like a mobile app for expense approval and capture, are moving the entire industry forward.
What's with all this competition in the startup credit card space?
There is a lot going on in the Fintech space all of a sudden, and a large number of companies are offering credit cards and banking products to startups. Why?
Part of this is due to more established players like Silicon Valley Bank trying to maximize their share of wallet in the early-stage/venture funded world. The same likely goes for Stripe, which seems to be trying to create a self-sustaining ecosystem within the early-stage finance world. They can collect payments, handle invoicing, and then handle expenses with offerings like the one mentioned here, and provide credit - seems like the cash never has to leave their ecosystem. That makes for a very interesting play, where they can lower fees because the money doesn't actually move.
Who benefits? Our clients! Great rewards, lower fees and products that are actually tech-native (meaning bookkeeping is a lot easier, something we care about).
Do we recommend Brex or Stripe?
Right now we recommend Brex over Stripe's card, because we have a large number of happy clients using their service. Stripe's card has evolved into a niche product mainly focused on the Stripe power using-startups. If you aren't deeply building your company onto the Stripe platform, then it's probably not right for you. But, if Stripe is a major, cornerstone technology for your company, then by all means, consider it.
Brex Card - the best option for funded, early-stage companies. The With a generous spending limit based on the company's funding and performance, and no personal guarantee, it's truly built for the Silicon Valley-style startup. Kruze Consulting clients can get a HUGE deal from Brex – a 125,000 point sign-up bonus after depositing $500,000 into a Brex business account and an additional 25,000 point sign-up bonus after spending $10,000 on Brex card(s). Sign up now through Kruze.
Stripe Credit Card - likely a good option for companies already aggressively using Stripe, since the credit history is based on the Stripe fund flows (and also since they require your company to already have an account.) The few clients we have who are using it are all building their apps onto the Stripe ecosystem, and therefore this card is a good fit for them.
Right now, the main duel between startup cards is between Brex and Ramp, with other players like Airbase appealing to more larger startups and SVB trying to retain share with their newer offering.
Want a detailed review of the best credit cards for startups? Click here to read our breakdown of the top players we see our clients using. We list out the pros and cons of each of the cards we see with major market share.