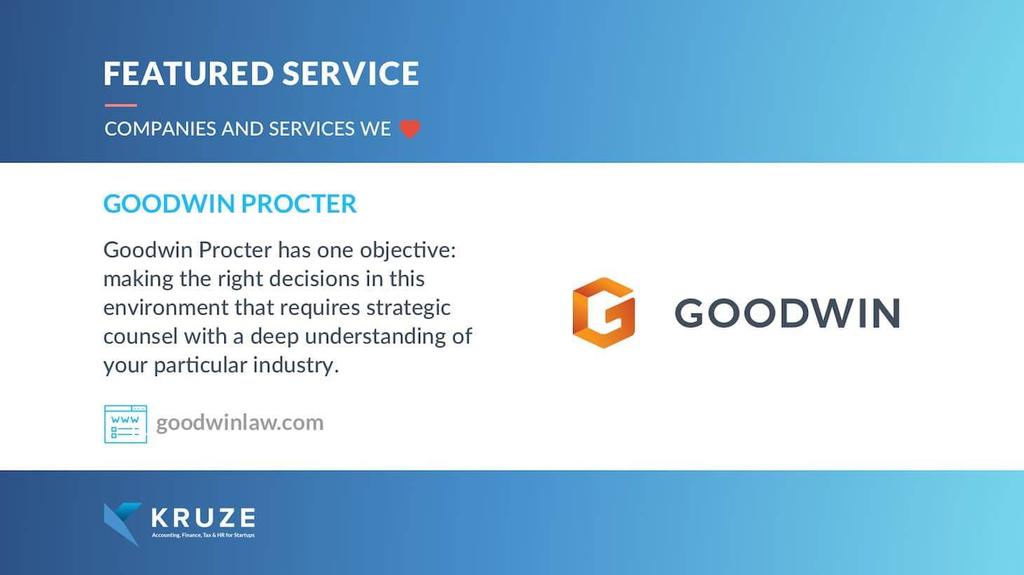 Goodwin Procter has one objective: making the right decisions in this environment that requires strategic counsel from an advisor who not only knows how laws are evolving in jurisdictions around the world, but also has a deep understanding of the startup world.
They are a global 50 law firm with a history of working on groundbreaking matters, and an increasingly focused approach to working with clients in the financial, private equity, real estate, technology and life sciences industries.
Kruze Consulting does a ton of work with lawyers across Goodwin's offices but some of our favorite lawyers at the firm are Craig Schmitz, Bill Growney and Nicole Chessari. All are excellent startup lawyers in Goodwin's Silicon Valley practice. Kruze sees them giving excellent advice and working through tough situations across the Kruze client portfolio. Nicole even represented Kruze Consulting in a situation where a Kruze client was being sued.
Listen to our Founders & Friends podcast with Bill Growney, Technology Company Lawyer at Goodwin Procter, talking about common mistakes early stage startups make while setting up their company including securing the IP, stock options, and how to navigate liquidation preferences if you're raising a venture capital round.
Make sure you visit www.goodwinlaw.com to learn more about this outstanding firm!