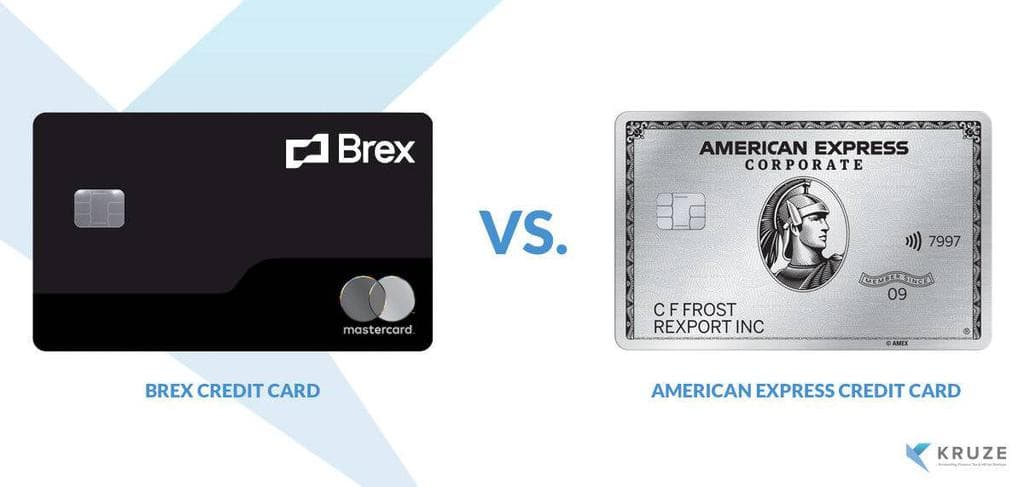 We've helped hundreds of startups that have raised billions in venture capital set up their financial/accounting systems. The Brex corporate card is one of the fastest-growing financial tools we've seen startups adopt in the past few years. But traditional card vendor American Express isn't sitting on its laurels, and now has their own "Brex Killer" card – "American Express Corporate Program for Startups."
So, what most early-stage founders want to know is, after you raise funding, should you switch to Brex or AmEx's startup focused card?
If your company is a VC funded business, then the answer is a strong YES - you need one of these modern, startup-focused options over a traditional option like Chase Ink or something by CapitalOne. As a leading accounting and finance consulting firm that has worked with hundreds startups that have collectively raised over $12 billion in funding, we have some strong opinions on which card is right for you and why.
Which is better for a funded startup, Brex or AmEx?
Cutting to the chase: right now, Brex's cards are the better product for a funded company. Brex beats American Express' current offerings in pretty much every category, that a founder who has raised seed or venture financing should care about. Because Kruze Consulting is a leader in the startup finance space, Brex is offering our referrals an amazing deal – a 125,000-point sign-up bonus after depositing $500,000 into a Brex business account and an additional 25,000-point sign-up bonus after spending $10,000 on Brex card(s). Sign up now through Kruze.
Click here to get the special offer
While American Express does have a card focused on startups, the Brex card now has almost 10 times the penetration into funded startups based on our research. It's the card founders are choosing right now.
Let's break down what to look for in a card, and compare the two options to see which card is best for a funded startup.
And one final question: should a VC backed company use the traditional AMEX card? NO. These cards put personal liability for the card balance onto the founder, don't have perks that help startups (they are only for the benefit of the founder!) and make your accounting much, much, much harder.
First, what does a startup need in a card?
We only work with early-stage "Silicon Valley" style companies that have raised seed or venture capital funding. These kinds of businesses are very, very different from "traditional" small businesses like flower shops or 2-person law firms. Traditional business owners are usually looking for a low-fee product that gives them travel points, and they expect their line of credit to be based on their personal credit score.
Funded startups need a radically different offering:
A credit or spending limit that is based on the company's funding, not the founder's credit score
No founder's guarantee on the line of credit
Perks for the startup, not for the business owner (i.e. discounts on services used by the company, not travel points for the founders personal use)
Easy accounting and bookkeeping, to save valuable time
A good UX and tools the founder can use to manage the company's spend
APR and personal travel rewards aren't what we recommend funded companies focus on. If you are starting a small business that you own 100%, these might be perks that you want in your corporate card.
But when you are raising capital from VCs, you want to get things that increase your startup's chance of succeeding. Features that save you time and reduce your company's burn rate are much more important. And you also want to split the spending limit from your own, personal credit score. And you don't want the debt on the card to follow you if the company fails! Again, we recommend Brex over AmEx's old-school offerings, which are focused on traditional small businesses. The new, "startup-focused American Express" product is a lot more appealing to funded companies, but it's lacking some important features that you get from Brex like better expense management tools and startup-focused rewards - and it still stinks to try to do your accounting with an Amex card.
Comparing fees - Brex vs Amex
Brex, in it's most basic offering, is a free corporate card for VC-backed startups. This means that the company makes money off of the interchange fees charged to merchants, not by charging a fee to the startup.
Amex charges $75 for a Green card, then $250 or $550 for one of the more advanced cards. (They probably also make money on the interchange fees).
So, for an early-stage company, Brex is way, way cheaper.
Why is Brex a better choice than Amex?
Journalists have started to refer to Brex as Amex 2.0. The company offers corporate cards (not which are actually a little different than credit cards) to funded, early-stage companies. Right now, we think it's one of the best choices for VC funded businesses. The Kruze Consulting clients that are using them say that they love the rewards, and appreciate the extra points on common startup spend categories like ridesharing. Startups that pay for important services like AWS can get discounts. They do not make the founder put up a personal guarantee - and does not link the company's spending limit to the founder's credit score. This is a big deal! We've seen our founders who have fast growth companies struggle to keep the cloud servers turned on because they were growing so fast that their personal credit card kept getting maxed out! The company itself is a venture-funded business - a unicorn to be exact. It's raised over $1 billion in venture capital. You can get one here.
What is the American Express Corporate Program for Startups?
The American Express Corporate Program for Startups card was released in the Fall of 2019. It took a while for startups to start using it, but we think that it did help stop American Express from losing market share to Brex (and Ramp). You can apply for it here, or you can call 844-910-0191. Let us know if you get it; we'd love to hear about your experiences.
According to Bloomberg, American Express said "We acknowledge that for a younger company, with a younger set of founders, the traditional corporate program wasn't meeting their needs." As we understand it (source here), the biggest two changes they are making for this offering is that
The card will no longer force a personal guarantee onto the founder
Spending will be linked to the company's bank account - up to 10% of the cash balance in the bank account that you link to the card
Basically, you need to link your company's bank accounts into Amex's systems, and the will adjust the spending limit based on the cash you have. There is a minimum of $2M in bank account balances to get the card - this may be why we are not seeing it take market share from Brex, as the Brex card has a much lower bank account balance requirement.
The perks will be the same as other American Express cards - access to airport lounges, seating for sporting and cultural events… so not really super startup focused. There are a few flavors of cards to choose from - the Corporate Green Card, which has Uber and Hilton perks, the Gold card which has Uber, $100 a year in airline credits, and Hilton perks the Platinum card, which gets you Uber perks, CLEAR membership and some airline credits, and finally, the "Business Extra" card, which seems to focus on American Airlines credits/perks.
So, we see two challenges to the Amex card - the perks are still very focused on items that a SMB owner would want, and you need to have $2M in your bank account to apply. The rewards are just better for VC-backed startups with Brex vs Amex.
Comparing AmEx and Brex's cards
This chart details the key differences between the AmEx card and the Brex card.
Brex
American Express Corporate Program for Startups
Type of Card
Corporate Charge Card
Corporate Charge Card
Currently Easily Available
Yes
No
Built for Funded Startups
Yes
Yes
Spending Limit
Generous
Up to 10% of linked business bank account
Rewards
Points for spending, including higher points
for key startup expense categories
Airport lounge access
Premium seats for sports
Personal Guarantee
Not Required
Not Required
QuickBooks Online Sync
Yes
Weak
Expensify Sync
Yes
Unknown
Easy Bookkeeping
Yes
No
Instant Sign Up
Yes
No
Ability to Carry Balance
No
No
Robust Spending Controls
Yes
No
Customer Service
Strong
Weak
Reviews of AmEx's and the Brex cards
We have a large number of our clients using Brex now, and they give it very positive reviews. From Kruze's bookkeeping team's perspective, Brex makes doing the books and accounting a lot easier. And our FP&A team has seen it meaningfully reduce the burn rate of our clients who switch from AmEx to Brex because the spending controls are so strong.
American Express cards are usually loved by people who love them, mainly for the personal perks. However, the accounting integrations are not the strongest, which makes our team not love them as much.
Why is American Express reacting to what Brex is doing?
It's a big deal when an incumbent like American Express reacts to something a startup like Brex is doing. So why is AmEx coming out with a new product to specifically compete against them?
Probably because Brex is eating their lunch. Brex and also Stripe, (and now Ramp too) have found a solid niche serving funded, early-stage companies. Brex is taking serious market share from AmEx - at the end of Q1, 2021, the Brex card had almost 4x the companies using it as Amex.
It's our startup clients who benefit from all of this competition and innovation. With the removal of a personal guarantee, plus all these more startup-appropriate perks, it's the early stage companies who are going to reap the rewards. Also, accountants like Kruze who know how to use technology to be more efficient. We benefit too. ¯\_(ツ)_/¯ Of course, since we pass along this savings to our clients with low-priced bookkeeping, everyone wins!
Top alternatives to Brex and American Express for VC-backed companies
For a while, Brex was effectively the only game in town for founders who had raised a lot of venture funding. However, American Express, one of the traditional leaders in early-stage financial tools, has responded with solid offerings. But there are other players in the market as well. Here are some of the top alternatives to Brex and Amex:
Rho
Expensify's card
The Stripe card
Read the reviews of these offerings on our best credit card page.
Do we recommend Brex or AmEx?
We have a lot of happy customers using Brex, and they are offering new signups that come through Kruze 100,000 bonus points for signing up - you can sign up and get the reward here. So we strongly recommend Brex over American Express' new Corporate Program for Startups at the moment. We'd like to see the AmEx offering live in the market, do some monthly bookkeeping with it, and ask some of our CEOs for reviews before recommending it.
Brex Card - the best option for funded, early-stage companies. With a generous spending limit based on the company's funding and performance, and no personal guarantee, it's truly built for the Silicon Valley-style startup. Sign up now.
AmEx Corporate Program for Startups - a decent option. The biggest innovation they are offering is breaking the link between the founder's credit. The perks seem a little too small business owner focused, and we don't love the accounting software integration as much as Brex's. We'll be able to more firmly review this product after some of our clients get their hands on it - and we'll update this page once we know more.
Want a detailed review of the best credit cards for startups? Click here to read our comparison of the top providers our clients use. We list out the pros and cons of each of the cards we see with major market share.