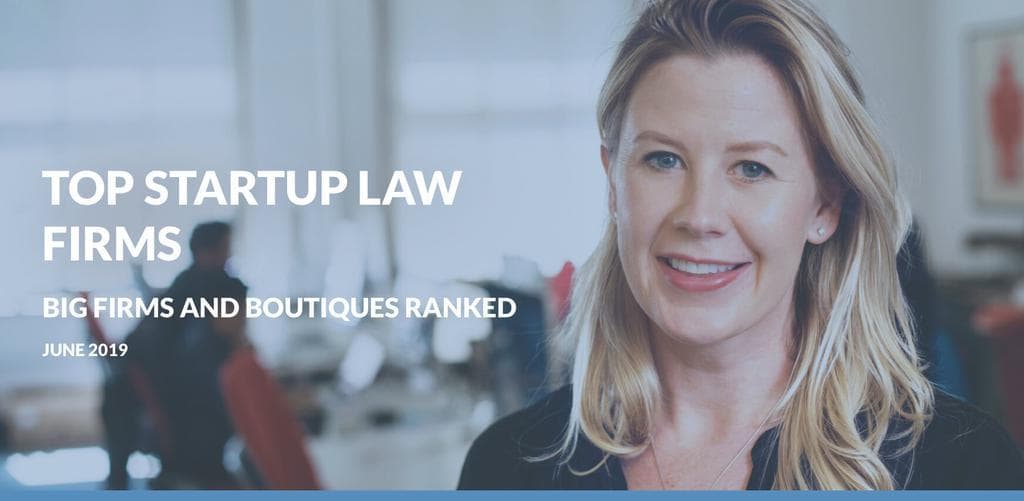 The right attorney can make the world of difference for a venture funded startup - and startups are willing to pay up for legal advice. We've analyzed over $40 million worth of startup legal spending to create two reports, and identified the Top Startup Law Firms and the Top Boutique Startup Law Firms.
Top Startup Law Firms
Ranked by Dollars Spent by Startups
| Rank | Law Firm |
| --- | --- |
| #1 | Fenwick & West |
| #2 | Wilson Sonsini |
| #3 | Gunderson Dettmer |
| #4 | Orrick, Herrington & Sutcliffe |
| #5 | Perkins Coie |
Our top startup law firms are all large, national (or international) firms with partners who have expertise in all range of legal challenges faced by funded startups. These firms all have over 100 attorneys, and most have over 1,000.
Top Boutique Startup Law Firms
Ranked by Number of Clients
| Rank | Law Firm |
| --- | --- |
| #1 | Silicon Legal Strategy |
| #1 | Atrium |
| Tier 2 | SPZ Legal |
| Tier 2 | VLP Law Group |
| Tier 2 | Hopkins & Carley |
| Honorable Mention | Fathom Law |
| Honorable Mention | Paradigm Counsel |
| Honorable Mention | Silicon Counsel |
| Honorable Mention | TangoLaw |
| Honorable Mention | Capes Sokol |
Small firms with a considerable focus on serving startups - ranked by number of clients.
Interviews with Leading Startup Attorneys and In House Counsels
Our COO, Scott Orn, interviews leading players in the startup ecosystem, including many legal figures.
Top Boutique Startup Law Firms
After we published our Top Startup Law Firm piece, a few legal reporters (and quite a number of boutique law firms) asked us which of the smaller, more technology-focused firms were near the top. We looked into the data, and have identified the Top Boutique Startup Law Firms. These firms all have under 100 attorneys, typically less than 50, and are either completely focused on serving technology/startup clients or have a strong tech practice. This study analyzed data from over 180 funded startups, and our team dug through over $30 million worth of professional services spend, to find the top Boutique Startup Law Firms. This analysis was conducted by analyzing how many clients each boutique player had, and removing the larger firms from the dataset.
Here are the Top Boutique Startup Law Firms, as ranked by the number of startup clients:
| Rank | Firm | Description |
| --- | --- | --- |
| #1 | Silicon Legal Strategy | Silicon Legal Strategy is a premier technology, boutique law firm providing targeted, bottom-line-oriented advice to technology startups, innovative entrepreneurs and seasoned investors. |
| #1 | Atrium | Atrium is a client-centric platform providing legal services for fast-growing companies, helping hundreds of companies from drafting and reviewing commercial contracts to raising over $500M in new capital. |
| Tier 2 | SPZ Legal | SPZ Legal provides outside general counsel services to startups and small businesses on incorporation, compliance with securities and employment law, IP protection, plus drafting and review of business contracts. |
| Tier 2 | VLP Law Group | VLP offers a broad variety of business and transactional services to companies, financial institutions and investors throughout the nation. Their clients include businesses of all sizes, from early-stage startups to the Fortune 100. |
| Tier 2 | Hopkins & Carley | With offices in the heart of Silicon Valley, Hopkins & Carley has been providing their assistance with complex transactions, must-win litigation, and trusted counseling technology companies since 1968. |
| Honorable Mention | Fathom Law | Fathom Law is a business and technology law firm advising entrepreneurs, growth companies and investors in a wide range of industries, delivering sophisticated legal and business advice. |
| Honorable Mention | Paradigm Counsel | Paradigm Counsel represents companies from formation to exit and handle all manner of commercial and intellectual property transactions for public and private companies. |
| Honorable Mention | Silicon Counsel | This award-winning firm provides strategic, growth-focused counsel from some of the best business lawyers in San Francisco and Silicon Valley. |
| Honorable Mention | TangoLaw | TangoLaw is a boutique legal practice serving angel and VC-backed emerging growth companies and investors on a diverse range of legal matters including general corporate,IP strategy, M&A, and more. |
| Honorable Mention | Capes Sokol | Capes Sokol is a Saint Louis based firm with several technology-focused practice areas such as blockchain, IP, M&A and business and finance. |
We removed firms that are litigation, IP, immigration and real estate focused from this analysis.
We noticed pretty quickly that smaller firms typically seem to make less money per startup than the larger players we analyzed in our last study. On average, the boutiques we highlight earn about $33,000 per year from each startup - vs. just over $57,000 per year that the larger top players we mention in our other study take in per startup client. This could be because some of the smaller players charge less, or this could also be because they do not offer as broad an array of services as the national and international firms.
Below is our analysis of the top 5 law firms serving early-stage technology companies:
Top 5 Startup Law Firms
Legal expenses are a meaningful part of most startups' spending. We analyzed over $18 million dollars worth of legal spend by over 140 Seed, Series A, and Series B US startups to identify the top 5 startup law firms in the United States. The startups in this study have raised over $850 million in combined funding, and are backed by leading venture capital and seed investors. Download the Report
| Rank | Firm | Revenue Market Share | About the Law firms |
| --- | --- | --- | --- |
| 1 | Fenwick & West | 7.2 % | Consistently recognized as one of the top technology law firms, Fenwick & West has offices in Silicon Valley, San Francisco, Seattle, New York and Shanghai. |
| 2 | Wilson Sonsini Goodrich and Rosati | 7.0 % | Wilson Sonsini is a nationally recognized law firm that provides services to technology and life sciences companies, and the venture and private equity firms that fund them. |
| 3 | Gunderson Dettmer Stough Villeneuve Franklin & Hachigian | 5.2 % | Headquartered in Silicon Valley, Gunderson represents over 2,500 technology and life science companies, and over 450 venture capital firms. |
| 4 | Orrick, Herrington & Sutcliffe | 4.7 % | With 25+ offices in Asia, Europe and North America, Orrick provides technology companies with their legal advice for fundraising, M&A, IP litigation, employment, and more. |
| 5 | Perkins Coie | 4.5 % | Located in Seattle and with a total of 19 offices across the United States and Asia, Perkins Coie represents clients across a wide range of industries and stages of growth— from startups to FORTUNE 50 corporations. |
This analysis was based on the total dollars spent on legal fees by the 140+ startups in our analysis. Over 7% of every dollar spent on legal services by these companies went to Fenwick. Fenwick, Wilson Sonsini, Gunderson, Orrick, and Perkins Coie likely make any "top" startup law firm list, but these five are at the top based on the revenue they collected. Together, these top 5 law firms captured approximately 45% of every dollar that their clients spent on legal fees.
When contacted by Kruze Consulting, Fenwick partner Kristine Di Bacco said, "We are proud of the work we do with early-stage startups, from financing to IP to acquisition advice. Startup founders turn to us because they know we can support them from their first financing round to their IPO and beyond."
Top 5 Startup Law Firms by Clients
It's not just about the money spent on legal services - just as importantly, which law firms are startups most likely to turn to for advice? Even though the top startup law firms have expertise in multiple legal specialties, the startups in our sample often worked with more than one provider, choosing firms with deep expertise in areas like immigration, employment law, IP, or another discipline as needed.
Interestingly, almost a quarter of the startups in our sample worked with more than one top tier law firm.
| Rank | Firm | Client market share |
| --- | --- | --- |
| 1 | Fenwick & West | 15 % |
| 2 | Gunderson Dettmer Stough Villeneuve Franklin & Hachigian | 15 % |
| 3 | Orrick, Herrington & Sutcliffe | 13 % |
| 4 | Wilson Sonsini Goodrich and Rosati | 11 % |
| 5 | Goodwin Procter | 11 % |
"Goodwin attorney's love helping start-up clients navigate the legal aspects of their endeavor so that they can focus on innovation. We are thrilled to be on Kruze's Top 5 Start-Up Law Firm list! Partnering with clients and seeing their evolution from start-up through their entire company lifecycle is one of the best parts of our job." - Bill Growney, Goodwin Procter Partner
How Much do Startups Spend on Legal Costs?
These startups spent tens of thousands on legal fees per year. Across the board, there is a wide-ranging amount of money spent by startups on legal costs. This typically varies by industry, IP needs, funding round, and other Company-specific HR issues. The average startup in our study spends about $77 thousand dollars per year, and the median spend is about $39 thousand dollars per company. Note that we attempted to exclude companies involved in active litigation from our analysis.
$77,150 average legal spend per startup
$38,990 median legal spend per startup
What is Typical Legal Cost for Seed and Series A Rounds?
When companies raise additional funding, it is typical to see a large outlay of money to legal firms to compensate for due diligence and corporate advisory during the fundraising process. For a Seed round, the legal costs in our analysis are typically between $5,000 to $10,000. For Series A rounds, legal costs are typically between $50,000 to $65,000 - although there are several instances of startups' paying north of $100,000 in legal fees for a fundraise. Often times at the Seed round, law firms will defer payment until the total funding exceeds a pre-determined, significant threshold.
$5,000 to $10,000 Seed Round Legal Costs
$50,000 to $65,000 Series A Legal Costs
Startup Legal Spend by Industry
Not surprisingly, startups in different industries spent very different amounts on outside legal costs. The Healthcare industry appears to have the highest legal bills, although there is high variance in spend in our sample. This is likely because Healthcare startups spend can ramp up or down depending on FDA or HIPPA compliance/regulatory needs.
Companies in the Hardware space are also known to spend a significant amount on legal costs, namely to research and file patents. Spending in the other main industries tends to be a little more consistent but does vary based on each business' unique circumstances and needs.
Typical Range of Legal Spend by Funded Startups
What is a "normal" spend on legal costs for a funded startup? Some startups, when not fundraising, manage to spend almost nothing on legal costs in a given year. Others spend much more than $100,000. Over half of the companies in our sample spent less than $40,000 a year, so a founder trying to estimate the spend a year when they are not actively fundraising, engaging in litigation, doing complex employment law work and not filing lots of IP could safely estimate that amount.
What will 2019 Bring for Startup Legal Spending?
While Kruze Consulting's does not currently have enough data to calculate any legal spending trends for 2019, we expect to see a continued healthy spend. This will be driven by a strong venture capital fundraising market and continued need for funded startups to get the legal advice they need to grow their businesses.
When asked for an opinion on what 2019 will bring, Augie Rakow, Chairman of Atrium, a tech-enabled legal platform and law firm, whose clients' have raised over $500 million in new capital, said, "In 2019, we expect to see startups demanding better support from law firms, including more transparent pricing, more professionalized account management, and greater access to tools and products that make legal procurement easy, fast and frictionless."
Proportion of Startups by Annual Legal Spend
Note: when possible, our analysis excludes litigation costs. Companies in our sample set involved in active litigation easily spent over a million dollars a year on legal fees, and often with specialized law firms. We excluded these specialized law firms from our analysis to show what a typical "startup" would spend and which top firms they would choose to work within the normal course of operations.
ABOUT KRUZE CONSULTING
Kruze Consulting was founded in 2012 by Vanessa Kruze, a big four alum, startup controller and CPA. Kruze provides Startup CFO Consulting to over 500+ startups in Silicon Valley, Los Angeles, New York, and other major startup hubs. Kruze's clients have raised over $500 million in venture capital in the past 12 months, and are market leading SaaS, software, eCommerce, eHealth and FinTech startups. The firm handles all things Accounting, Tax, Finance, & HR: interim CFO Consulting, financial modeling, annual taxes, venture debt consulting, 409A reporting, bookkeeping, AR/AP, and Seed/Series A/B Fundraising Preparation. Visit kruzeconsulting.com to learn more.
Read other Kruze Consulting research studies:
The 2018 Startup CEO Salary Report was created by VP of FP&A Healy Jones and Onboarding Manager Alex Janeck. Design by Lucila Romero.