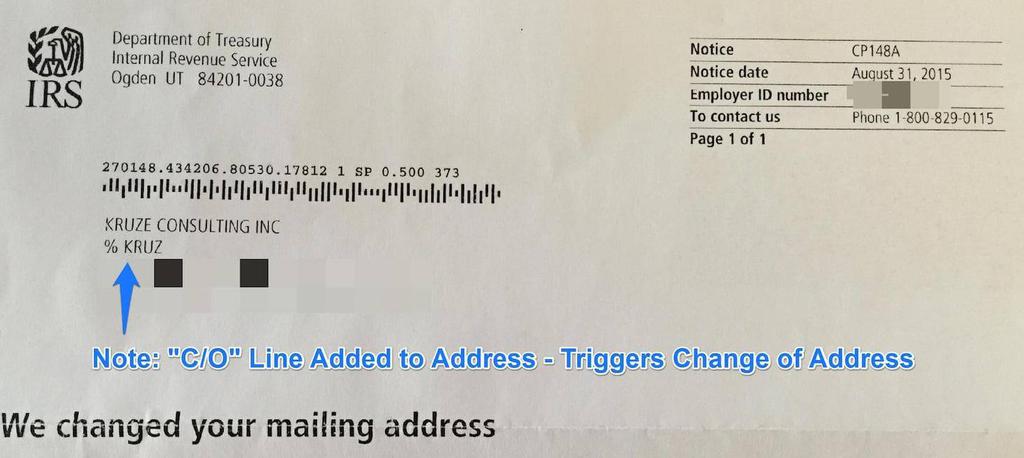 Over the past week you may have received a Change of Address notice from the IRS. We called the IRS about this and discovered that the IRS added another line to everyone's address block (%ABCInc - see the Kruze version in the photo above). This extra line triggered a Change of Address for many companies, including at least 20+ Kruze Consulting clients.
Let's cry for the thousands of razed forests sacrificed in this offering!
We're 99.9% sure that if you received one of these notices, it's probably a result of the "extra line added." That said, notices from the IRS should always be taken seriously. There have been instances where identity thieves have filed a Change of Address form in an effort to intercept tax refund checks.
Therefore, as a best practice, we recommend that you be safe rather than sorry. Pop in some earbuds, call the IRS, stay on hold for 90+ minutes, and verify that the notice you received was indeed a result of the addition of an extra line in your address block.
Kruze Consulting is a leading accounting firm working with seed and venture funded Delaware C-Corps. Funded startups choose Kruze Consulting's team of CPAs, bookkeepers, CFOs, former IRS tax auditors, and venture experts. In addition to running the books, Kruze does tax, finance, and HR. Contact Kruze today!