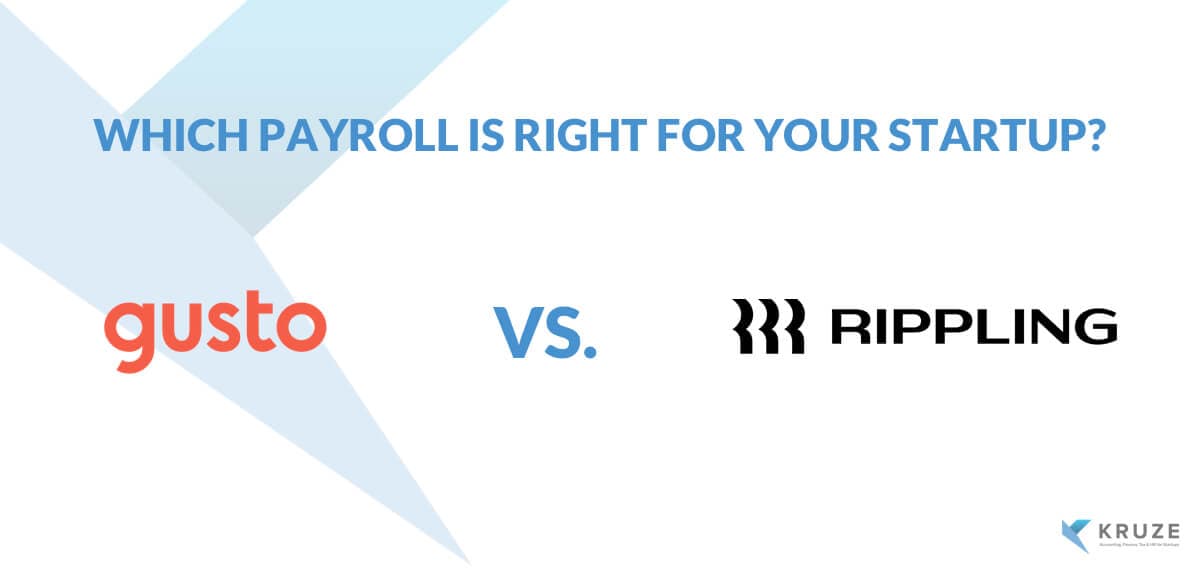 Kruze Consulting has helped hundreds of startups set up their first payroll, so we've advised many founders on how to compare the two payroll systems we recommend most for early-stage companies: Gusto and Rippling.
Read on to get the details on how Gusto vs. Rippling compare, but the tldr; is that we are currently recommending Rippling to more companies than Gusto. We still like Gusto, but Rippling has comparable pricing plus several critical features that put it over the top. Plus, Rippling customer service has been much, much stronger since the beginning of 2022 and into 2023, making it a better choice for founders who don't want to waste a lot of time on hold or going back and forth via customer service tickets to solve employee payroll issues.
FIRST, HOW DO I EVALUATE GUSTO AND RIPPLING?
Startup founders have their own set of needs and priorities when it comes to choosing a payroll system. Here's a breakdown of what we've seen matter most for our clients as we've helped them set up and manage their payroll systems:
Saves Time. Startups want an option that requires little to no manual, non-strategic work each pay period/month/year. Founders can't spend time running payroll every month, pushing buttons when employees change 401k elections, etc. You've got a startup to run!
Automates the Work. You'll want a system that runs on autopilot, minimizing a founder's time spent on data-entry and manual logins.
Easy-to-Use Interface. Few founders want to waste time navigating their payroll system website. It should be simple, intuitive and easy to use, as both of these options are. And your employers need to easily understand how to make elections, enter bank account information, etc.
Always Reliable. Both Gusto and Rippling have been around for long enough to build solid reputations, and both can be trusted with your company's highly sensitive info and processes.
Strong Customer Support. When you have questions or need help, or when your employees do (usually around payday or tax time), a great customer service team will save you hassle, time and energy. Payroll and benefits issues can suck the energy out of an employee, so this is an unusually important feature that often gets overlooked. As we've already mentioned, Rippling has been providing superior customer service in 2023 vs Gusto.
Handles Payroll Taxes and Other Compliance. A payroll system that automates these important taxes for you and takes the work off your hands is a must. As an employer, these taxes are important - and your responsibility.
Provides Easy Company Onboarding. The process of onboarding your company into the system – filling out all the company info, getting bank accounts connected, registration in necessary states – should be smooth and easy, as should the process of adding new employees as you grow.
Easy Employee Onboarding. Once your startup starts growing, it can happen fast. Some of our clients add 10 to 30 employees each month. Adding new hires to the system and getting them onboarded needs to be easy or else you'll wind up needing to hire someone just to handle data-entry and payroll system onboarding! Offer letters, background checks, benefits enrollment, direct deposit and more are features that a payroll system can offer.
Good Benefit Options/Integration. Good benefits packages are part of what allows startups to attract, hire and retain top talent. Once you are past the earliest stages, employees expect full benefits, and federal and state laws both govern what types of liability employers take on, so it's crucial to get benefits right on both ends. Plus, you want heavy automation and integration so you aren't stuck with data-entry every time an employee wants to make a change in their 401(k) deferral. Even if you aren't going to offer benefits at first, choose a platform that makes it simple to add benefits because moving payroll is disruptive to you and your team.
Simple Accounting. As CPAs to many funded early-stage companies, we care deeply about getting the books right. These three options all API into your accounting software, meaning you won't have to pay thousands of dollars to get your bookkeeping done or spend a day every month dealing with books and payroll.
Things we ignore when comparing Gusto vs Rippling
We tend to ignore new(ish) features and products launched by these companies, as we encourage our clients to work with best in class items until new features have had the chance to mature. Items like these include Rippling's new credit card offering (too early to tell if it's good or not).
COMPARING GUSTO VS RIPPLING
There's a lot to consider when choosing between the two, so we've broken it down into a side-by-side comparison:
Gusto
Rippling
Basic Description
The OG cloud payroll and benefits for startups
Cloud payroll and benefits plus employee IT management
Pricing - Starting at
$80.00 per month (Plus Plan for multi-state employers)
$35.00 per month
Pricing - How it scales
$12.00 per employee per month
$8.00 per employee per month
Free Trial
No - BUT with the Kruze link you can get 3 months free!
No
Online Interface
A+
A
Payroll Autopilot
Yes
Yes
Customer Support
Decent
Excellent
Payroll Tax Compliance
Excellent
Excellent
Integrated Benefits
Guideline 401(k)
Health benefits
Workers comp
529
HSA
FSA
Commuter benefits
401(k)
Health benefits
Workers comp
Life & disability
HSA
FSA
Commuter benefits
3rd Party Benefit Providers Integrations
Decent
Easy
PEO Option
No
Yes
SaaS/Cloud System Management
Yes
Yes
Hardware Systems Management
No
Yes
Employee Onboarding
Easy
Easiest
QuickBooks Online Integration
Yes
Yes
Funding Raised
$740M+
$697M
Visit
Gusto.com
Rippling.com
Gusto vs Rippling - Pricing Comparison
Both Gusto and Rippling are so low-cost when it come to their basic payroll. Howver, Gusto's "Simple" plan is for companies with employees only in a single state, where as Rippling supports multiple states. Gusto's Simple plan starts at $46 per month vs $35 per month for Rippling - a whopping $11 difference per month or $132 a year. On a per employee basis, Gusto is cheaper at just $6 per month while Rippling is $8 per month. The costs basically breakeven around the 5 or 6 employee mark, and then Gusto is obviously slightly cheaper as the per employee costs scales $2 lower per head.
Gusto's new, "Plus" pricing plan is $12 per employee per month, plus a base fee of $80 per month. This is a pretty big step up in pricing. If your startup has employees in multiple states - like a huge percent of our clients do - you'll need to step up to the higher priced plan, which is 2x the Simple plan. The other difference that we are worried about between the 2 pricing plans is the support. Simple comes with "basic" support, and Plus has "full" support.
But the real point is that the basic pricing is so similar that a startup can't really know what the cost difference will be until the founder has added on all the other items like benefits, 401ks, etc.
CHOOSING THE PAYROLL SYSTEM THAT'S RIGHT FOR YOU - Gusto vs Rippling
Ultimately, only you as a founder are in a position to know what's most important in choosing your payroll system. Here's our breakdown of the main differences between Gusto and Rippling.
WHAT IS GUSTO?
Gusto, formerly ZenPayroll, is a cloud-based payroll platform founded in 2011, offering services for payroll processing and payroll tax, benefits, and human resources features and tools. To date, it has raised $746M in funding. Our COO interviewed one of Gusto's founders (and CEO), Josh Reeves, when they were first getting traction. His vision for the company's product was quite compelling, and is certainly one of the major reasons that they have been so successful. In Josh's own words:
We really had a belief that this thing, this area called HR Payroll Benefits that today many people think of us as a chore and a hassle, could really be amazing. It's actually really wonderful things that we do for our customers. We give them peace of mind; make things easier and simpler. -Josh Reeves, Gusto Founder and CEO, on the Kruze Consulting Podcast in January 2017. Yup, we've been using Gusto for many years!
PROS: It's priced well, has a good mobile interface and has excellent integration with accounting and time-tracking software. Employee onboarding is easy. Its Autopilot feature makes sure your employees are always paid…and happy. It also allows you to set up a customized pay schedule, and change it at any time. As far as compliance, it handles federal and state payroll taxes seamlessly and automatically. We happen to think that we are the best Gusto accountant - talk to us to find out why!
CONS: Unlike Rippling, there is no easy IT hardware systems management feature, although they do now have a SaaS/cloud provisioning solution that lets you automatically set up accounts on Asana, Google Apps, etc. for new employees. Also there are no integrated background checks, and Gusto is not registered for benefits in all states. This means you have to register your company in each state in which you have employees, unlike some other payroll systems that register for you - though Gusto guides you through the process. Gusto finally came out with a "bring your own benefits broker" option, which is a place where they fell short when comparing Gusto vs. Rippling. One big drawback vs. Rippling is that Gusto has startup pushing what our tax CPA team believes to be a weak R&D tax credit product that legit startups should avoid. Secondly, Gusto customer service has not been as strong as we'd like in early 2022, meaning that founders (or their accountants!) may be spending more time dealing with customer service issues than anyone would like. This is important, because paying employees on time and correctly - plus dealing with the ever increasing array of compliance issues - can be mindless, annoying busy work that takes away from actually building your company. On the positive side, we have talked quite a bit with the team at Gusto and they appear to be taking serious steps to improve the customer service that our clients get.
WHAT IS RIPPLING?
Rippling is a newer company, founded in 2016, and like Gusto it offers payroll, payroll tax, HR and benefits management services through cloud-based software. They also now have a PEO offering. The company has raised $697M in funding. We had Rippling's founder, Parker Conrad, on our podcast a while ago, and he shared a pretty interesting insight about the purpose/idea behind the company. In his own words:
I think the critical difference between us and other vendors, is that most companies, misunderstand employee data as being an HR department and an HR systems thing. And we think that almost every business system in a company is tremendously reliant on information about employees. And sometimes that can be as simple as just the usernames and passwords for authentication into those systems. But a lot of systems, the underlying logic around how some of these systems operate, who gets access to what, how they're configured, what level of permissions they have, the policies that apply to them, systems that have concepts like alerts and workflow, often those alerts or those approvals, or that workflow is triggered based on characteristics like, what is an employee's job or roles in the organization, the alert or the approval is routed based on that person's role or position within the organization. -Parker Conrad, Rippling Founder & CEO, on the Kruze Consulting Podcast in August, 2020
While that idea might be a bit too meta for a discussion comparing Rippling and Gusto, it is an interesting concept that starts to show the product direction differences between the two payroll providers. For example, Parker's company has recently started offering an expense management and corporate card tool, with the idea being that an employee's budget, purchasing authority, etc. don't belong just within HR or finance, but both.
PROS: Rippling has an intuitive interface and dashboard that's very user-friendly, and it offers turnkey IT systems management so that when you hire a new employee, it's easy to get them into the system and provide them with a computer and cloud software. Rippling's sync into QBO is the best of the three companies listed (and makes Kruze accounting so much easier!). Also this platform is great at migrating you over from another payroll and benefits firm and works with third-party benefits brokers, which means you have a professional independent broker working to get you the best deal on your benefits. At first, Rippling had fewer integration options than Gusto. However, they have been hard at work adding in new integrations, and now surpass the number available with Gusto - plus, they have the standard (and solid) API connections with the big accounting systems like Expensify and Quickbooks.
CONS: Rippling does not offer a free trial or free option, which means that you can't try before you buy. We used to say that they needed to improve their customer service, but we've seen a major investment on their part in the customer service team come to fruition. Plus, Rippling has also build out a solid CPA relationship team - the customer service team that we at Kruze have access to - that helps our clients get answers even faster.
How Rippling Can Save Your Startup Money
Having now helped set up quite a few Rippling payroll systems, we've found a few critical areas where it can save you time and money. This video explains why we are so excited about their product:

REVIEWS OF GUSTO v. RIPPLING
We've worked with many, many startups using both of these platforms, and we've seen them both work wonders for early stage companies looking to set up payroll quickly and efficiently. We've literally worked with over 1000 startups using one of these two systems, so can confidently say that they work and are great for scaling startups. Gusto has been around longer and our clients generally love it, though Rippling, while a newcomer, is continuing to strengthen its software and offer great features.
GUSTO VS RIPPLING MARKET SHARE
Kruze's clients have historically skewed aggressively toward Gusto - and this vendor maintains a large market share in our client base. However, Rippling has been growing its client base and share recently - in particular, taking ADP and other more "traditional" vendors' clients (and winning new startups payroll).
| | Q1 19 | Q2 19 | Q3 19 | Q4 19 | Q1 20 | Q2 20 | Q3 20 | Q4 20 | Q1 21 | Q2 21 | Q3 21 | Q4 21 | Q1 22 | Q2 22 |
| --- | --- | --- | --- | --- | --- | --- | --- | --- | --- | --- | --- | --- | --- | --- |
| Gusto | 60% | 57% | 56% | 55% | 55% | 59% | 60% | 60% | 65% | 61% | 57% | 55% | 56% | 52% |
| Rippling | 3% | 4% | 5% | 7% | 9% | 11% | 13% | 15% | 17% | 18% | 18% | 18% | 19% | 20% |
| Justworks | 4% | 4% | 4% | 4% | 4% | 8% | 7% | 7% | 9% | 12% | 12% | 14% | 17% | 19% |
| Other | 33% | 35% | 35% | 34% | 31% | 22% | 20% | 18% | 9% | 9% | 14% | 13% | 8% | 9% |

A major driver in Rippling vs Gusto's market share growth has been the PEO option that Rippling has had for a while. (This is also a reason that Justworks has seen such massive share growth). The growth in the PEO adoption , in a large part, been driven by the massive increase in remote work, where startups are hiring employees in multiple states. This dramatically increases the cost of compliance (annoying!) and PEOs simplify this, and make it easier to offer competitive benefits to a distributed workforce. Of course, it is a bit more expensive, so as anything in the payroll space, there are tradeoffs.
WHICH DO WE RECOMMEND MORE, GUSTO OR RIPPLING?
Whichever you wind up choosing, either one of these platforms will provide great service for your payroll services and taxes, benefits and HR management, and will set your company up to grow. More of our clients use Gusto and it has a longer track record. But Rippling's IT systems management and other unique features are winning it lots of praise; if you are going to have a lot of remote workers where you will have to provision IT systems and computers, they could be a great choice.
If Your Startup Needs a PEO, Rippling Wins vs Gusto
Rippling now has a PEO option, whereas Gusto does not. A PEO, or Professional Employer Organization, is an organization that provides a range of services by outsourcing human resources. In a co-employer relationship, the PEO takes on certain employment/HR responsibilities, reducing the company's liabilities, regulatory workload, and sometimes, the cost of providing benefits. The PEO acts as the legal employer of the company's employees for purposes of taxes and benefits, while the company retains control over the day-to-day management of its employees. This arrangement is particularly beneficial to startups as it allows them to focus on the business while the PEO takes care of HR, tax filings, and benefit price negotiations. Rippling prefers larger companies use the PEO, but will allow startups that have raised a least $2 million in funding to get access to the PEO option.
Gusto vs Rippling - which is best in 2023?
For small startups, Gusto's ease of use and simple benefits integrations make it a strong choice. However, Rippling lets companies use their own benefits brokers, now has PEO option that is great for distributed teams, so is a better option for many of the companies that we are working with in 2023. Plus, Gusto's customer service hasn't been as strong recently as we'd like. So if we had to pick one right now, we'd lean toward Rippling.
Either way, you'll be happy you went with Gusto or Rippling over the legacy payroll providers.
Still have questions on how to set up your payroll? Click here for our guide to setting up payroll for startups, or send us your questions here.