$119,000 is the average for seed funded startups.
My firm manages payroll, accounting, and taxes for quite a number of funded startups, and we looked at CEO pay for over 125 funded companies. Cutting the data specifically for companies that are seed funded, our data shows that CEO founders of startups that have raised seed financing pay themselves, on average, $119,000.
CEO pay varies by a number of factors, including the executives previous experience, the amount the company has raised, the startup's traction and the industry the startup is in. As we looked across different industries, our data showed that CEOs in different industries have higher average salaries than others. For example, salaries in the Biotech and Healthcare industries tend to average more than those in other industries. Founders in those industries tend to come with academic credentials, and previous experience, that founders in other industries don't always have (M.D., PHD), and thus warrant a higher annual salary. The following chart shows the average CEO salary by the startup's industry for seed funded companies.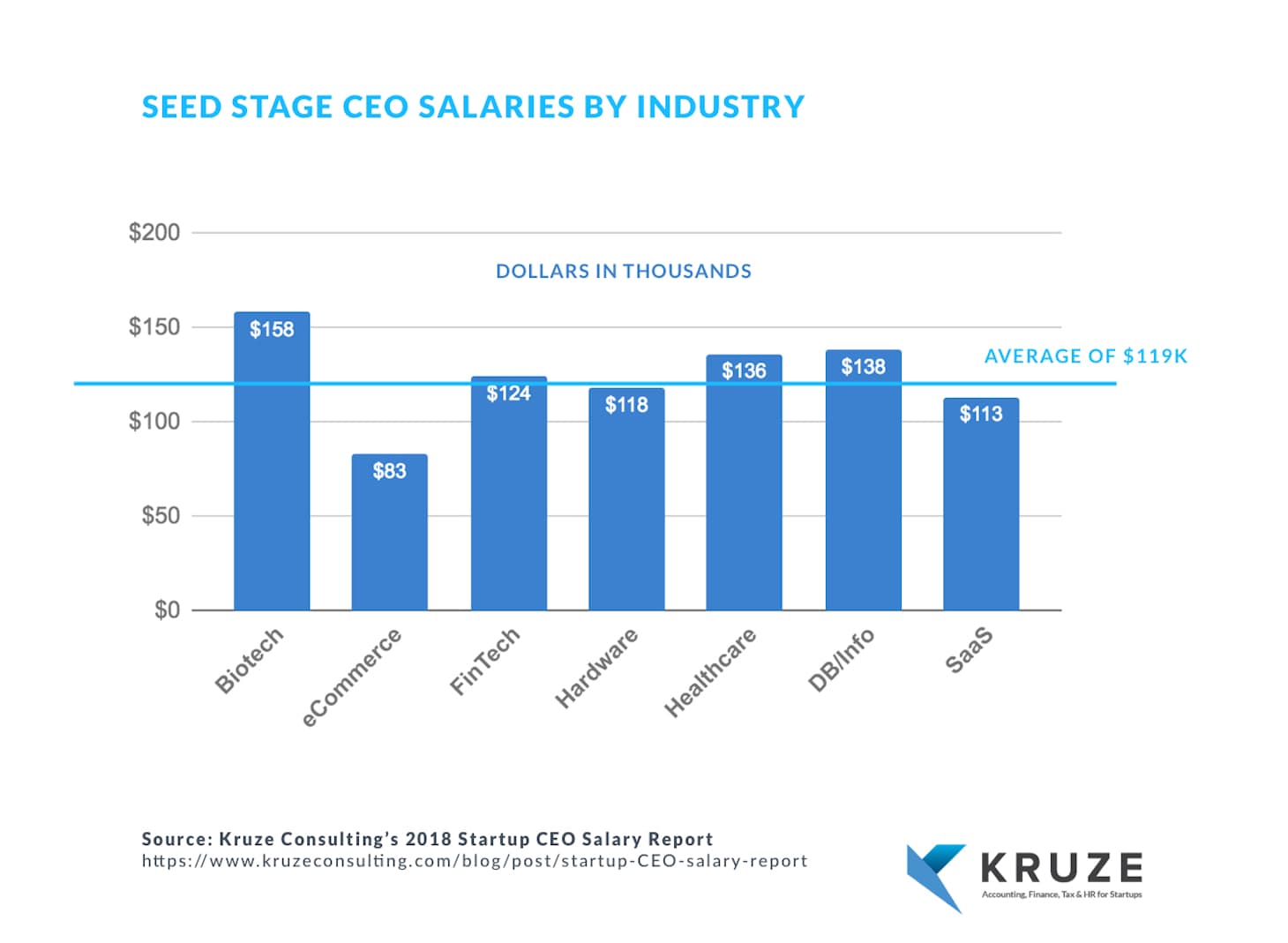 In my experience, investors in seed funded startups tend to want the founders to take enough salary to not have to stress too much about making rent payments or buying food - the goal is to be able to completely devote your time to growing the company. Experienced investors also know what is typical for your type of startup, and expect you to have pay inline with similar companies. Founder pay is something that you can and should discuss with your investors prior to the investment so that there is no discord post-funding. One way to show your investors what you expect to earn as a founder/CEO is through a detailed financial model that outlines the various ways that you will use the investor's capital. If you disclose your expected pay in a model, and if it is a reasonable amount, then you shouldn't have any problems.
Our Startup CEO Salary Report has data on average CEO pay by amount raised and is available on our website.
Contact Us for a Free Consultation