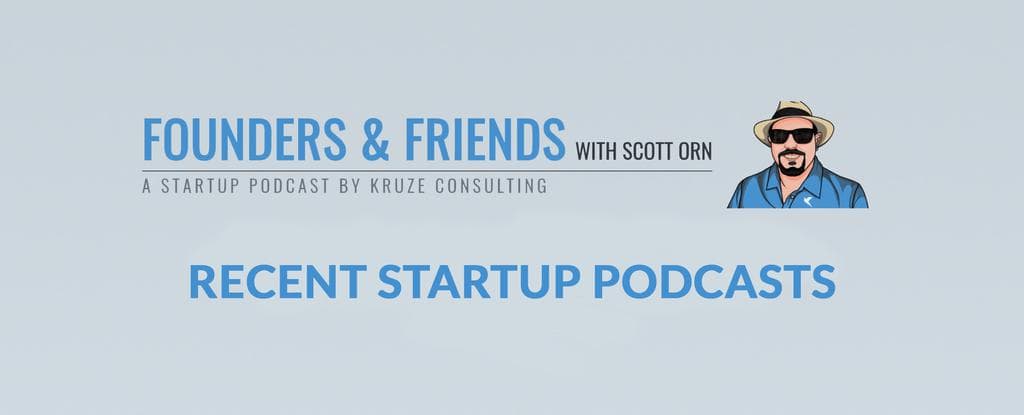 Our COO, Scott Orn, has been busy talking with interesting players in the Startup space on Kruze Consulting's Founders and Friends Podcast.
Some of the recent guests include startup founders, startup VPs of finance, Venture Capitalists, and investment bankers to startups.
Startup Founder Lars Kamp lays out the steps he followed to raise a seed round. Lars says, "Look, VCs will talk to you all day because, for them, it's an interesting market intelligence. But we just weren't able to walk in and say, "Look, this is our idea. We'd like to raise 2.5 or 3 million for a seed round and then we're going to build it." So our approach was, let's find a problem both prototype, show that we have customers on it and have them pay a little bit and that's what we did. So that was our approach and we bootstrapped for over a year. We didn't pay ourselves a salary for over a year and which is quite an achievement when you live in San Francisco and you have a family."
Mark MacLeod, a well-known software investment banker, shared recent insights into the SMB SaaS M&A market. Mark explains how he gets his clients ready for a sale to a bigger company, "I've operated these kinds of companies at scale. When I was a VC, I was investing almost exclusively in SMB software. And if you're business is one that has lots of small customers and you've been doing it for a while, then what you're going to have over time is all this cohort data where you can slice and dice your business every possible way by source of customer, by vertical, size of customer, geography, whatever attribute. And we like to do that. When we get involved with a client, we like to rip it apart, put it back together. Any SaaS business is going to have some magic. So some stuff that's working super well, and it's going to have warts. We try and find the magic so we can exploit it on two fronts. One, A, if you're not aware of this magic already, let's figure it out and do more of that… And second, let's make sure that's part of the story."
Startup VP of Finance, Evan Meagher, talks about how to grow finance alongside of growing sales. "Do you have unit economics that makes sense, are you paying $2 to get $1 revenue? Or are you paying like 50 cents to $1 revenue? Then, do you have a repeatable sales process… nobody's a commodity in this world, salespeople aren't commodities… like if every McDonald's in the world tried to use their own recipe for Big Mac- that company wouldn't be what it is, right? You've got to your guys and gals a repeatable playbook that works."
Subscribe to the podcast on iTunes or SoundCloud.